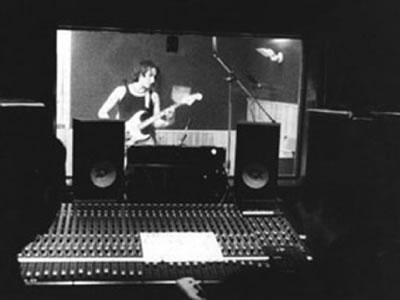 The Recording Studio (previously called "JUMP STUDIO") is part of the same Publishing House and the same Recording Company Label, but it is managed independently and it operates often for third party too. We are able to offer a very large variety of services. In case of any request for a particular instrument that is not available in our studio, we will provided it.
SERVICES:
• Recording studio
• Digital editing
• Mastering
• Change pitch or speed to musical audio files
• Recovery/Optimization old recordings
• Bases MF - Arrangements
• Sonorizations (also in Dolby Surround)
• Original music for Advertising, Films and TV
• Sounds and Musics for Multimedia
• Speakering
WE BELIEVE IN OUR PRODUCTS!
This is the reason why we constantly invest in new and up-dated technologies, to improve the quality of our services. The most important thing, in our opinion, is Creativeness. We, as creators of music, will be able to compare ourself and our products with very high levels partners.
Equipment list:
Pro Tools HD3 Accel & HD Native (with ProTools 10+11 software)
Interfaces: 192 I/O
Control 24 Digidesign
Spectrum Analyzer Audioscope 2813
Panasonic SV 3700 DAT
Marantz CD 50 (cd player)
Sony Minidisc rec/player MDS 302
Teac Cassette Deck V-3000
MONITORS:
Genelec 1031A with subwoofer 1092A
JBL 4312 A
Yamaha NS10
Event Speaker switcher ESW-1
AMPLIFICATION:
Chameleon 2200S
NAD 2155
Behringer Power Play (headphones)
HEADPHONES:
AKG - AUDIO TECHNICA - SONY - BEYER
MICROPHONES:
Neumann U47 Fet
AKG 414 - CK1 - D440
Sennheiser 441 - 421
Shure SM58 - SM57
Audio Technica AT3031
OUTBOARD:
Focusrite ISA 215 stereo pre/Eq
Focusrite RED 3 dual comp/limiter
Tubetech MP1A valve preamp.
TC Electronics 2240 equalizer/preamp
Trident dual limiter-compressor
Symetrix 501 limiter-compressor
Rane GE14 Dual Graphic Eq.
Aphex C
Valley 415 De-Esser
Drawmer DS201 dual gate
DBX 363X dual gate
Roland SRV 330 dimensional space rev.
Yamaha SPX 990 multi effect processor
Roland SRV 2000 digital reverb
Alesis Microverb III digital reverb and delay
Korg SDD 2000 sampling digital delay
Roland SDE 330 dimensional space delay
Roland SDE 2500 digital delay
Huge librarian of Plugins (Sonnox-Massenburg-McDsp-Brainworx-TcElectronics-Waves etc.)
COMPUTERS:
Apple Mac Pro Xeon 2.26Ghz (16Gb Ram)
Apple G4/1.25 Dual Processor
SYNT-EXPANDERS:
Roland JV 1080 +exp
Roland R8M + cards
Korg M3R
Emu - Proteus 1 XR
Roland MGS-64
Korg 05/R
Korg Triton rack + SCSI
Yamaha DX7II FD
Fatar 1176 masterkeyb.
Roland PC200 MKII
VIRTUAL INSTRUMENTS:
Avid Transfuser
Indigo Virtual synt
Spectrasonics: Stylus RMX - Trilian - Omnisphere
Toontrack Superior drummer
NI Kontakt
EastWest: Symphonic Orchestra-Symphonic Choirs-Goliath-Ra-Ministry Of Rock-StormDrum