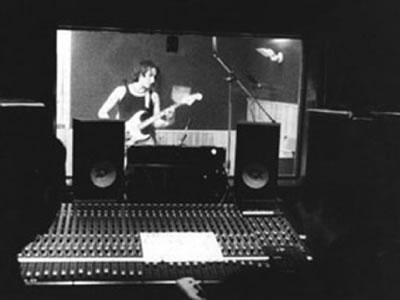 Sebbene faccia parte della medesima struttura aziendale, lo studio, (erede dell'ex JUMP STUDIO) pur avendo casa editrice ed etichetta discografica sotto lo stesso tetto è gestito in totale autonomia, operando frequentemente per conto terzi.
La lista dei servizi offerti è ampia e la strumentazione non disponibile, su richiesta viene noleggiata.
SERVICES:
• Studio di registrazione
• Editing digitale
• Mastering
• Cambiamento tonalità o velocità a basi audio
• Recupero / Ottimizzazione vecchie incisioni
• Basi MF - Arrangiamenti
• Sonorizzazioni (anche in Dolby Surround)
• Musiche originali per Film e Pubblicità
• Suoni e Jingles per Multimedia
• Speakering
CREDIAMO NEL NOSTRO PRODOTTO!
Questo è il motivo che ci porta costantemente ad investire in tecnologia e aggiornamenti, per migliorare sempre più la qualità del servizio offerto. Non è in secondo piano la creatività, a nostro parere la componente più importante, che ci permette come creatori di musica, di confrontarci con partners di altissimo livello.
Equipment list:
Pro Tools HD Native (with ProTools 2020.5.0 Ultimate)
Interfaces: 192 I/O
Spectrum Analyzer Audioscope 2813
Panasonic SV 3700 DAT
Marantz CD 50 (cd player)
Sony Minidisc rec/player MDS 302
Teac Cassette Deck V-3000
MONITORS:
Genelec 1031A with subwoofer 1092A
JBL 4312 A
Yamaha NS10
Event Speaker switcher ESW-1
AMPLIFICATION:
Chameleon 2200S
NAD 2155
Behringer Power Play (headphones)
HEADPHONES:
AKG - AUDIO TECHNICA - SONY - BEYER
MICROPHONES:
Neumann U47 Fet
Neumann TLM49
AKG 414 - CK1 - D440
Sennheiser 441 - 421
Shure SM58 - SM57
Audio Technica AT3031
OUTBOARD:
Focusrite ISA 215 stereo pre/Eq
Focusrite RED 3 dual comp/limiter
Tubetech MP1A valve preamp.
Trident dual limiter-compressor
Symetrix 501 limiter-compressor
Rane GE14 Dual Graphic Eq.
Aphex C
Valley 415 De-Esser
Drawmer DS201 dual gate
DBX 363X dual gate
API Lunchbox with:
• API 512c (2)
• Focusrite Red 1 500 (2)
• Neve 88R/LB (2)
• Chandler TG 2-500 (1)
• Neve 1073 LB (1)
Focusrite Octopre MKII
Roland SRV 330 dimensional space rev.
Yamaha SPX 990 multi effect processor
Roland SRV 2000 digital reverb
Alesis Microverb III digital reverb and delay
Korg SDD 2000 sampling digital delay
Roland SDE 330 dimensional space delay
Roland SDE 2500 digital delay
Huge librarian of Plugins (Sonnox-Massenburg-McDsp-Brainworx-TcElectronics-Waves etc.)
COMPUTERS:
Apple Mac Pro 3.46Ghz 6-Core Intel (64Gb Ram)
Apple G4/1.25 Dual Processor
SYNT-EXPANDERS:
Roland JV 1080 +exp
Roland R8M + cards
Korg M3R
Emu - Proteus 1 XR
Roland MGS-64
Korg 05/R
Korg Triton rack + SCSI
Yamaha DX7II FD
Fatar 1176 masterkeyb.
Roland PC200 MKII
VIRTUAL INSTRUMENTS:
Avid Transfuser
Indigo Virtual synt
Spectrasonics: Stylus RMX - Trilian - Omnisphere
Toontrack Superior drummer 3
NI Kontakt
EastWest: Symphonic Orchestra-Symphonic Choirs-Goliath-Ra-Ministry Of Rock-StormDrum
and many others...